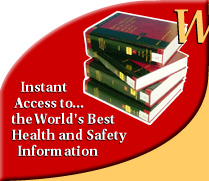 A service from the
Canadian Centre for
Occupational Health
and Safety


Français
Encyclopaedia of Occupational Health and Safety
Comprehensive, timely and accurate coverage of the core allied fields encompassing occupational health and safety. With contributions by internationally renowned experts, this one-stop reference provides jargon-free answers to the most critical questions involving health and safety in the workplace.

CISDOC Database




This international, multilingual database provides references to all aspects of health and safety with an emphasis on training and policy documents from various countries.